Visit Us
---
Due to the CZU Lightning Complex Fires, our Estate Vineyard & Winery is closed until further notice.
Big Basin Vineyards was founded in 1998 on an historic vineyard site in the Santa Cruz Mountains outside the town of Boulder Creek and next to Big Basin Redwoods State Park. Our love of the old growth redwood trees and dramatic splendor of the park led to that becoming the place name on the label. Nestled among these towering giants on sunny mountain slopes, our Estate Vineyard is a place of serene natural beauty. Our location is ideal for those who want to camp, hike or bike in Big Basin Redwood State Park and follow it up with a wine tasting visit to our sunny and scenic patio at the base of our steeply terraced CCOF certified organic vineyard.

For those who want to access to the Big Basin experience in a more urban setting, we have a Tasting Room situated in scenic downtown Saratoga. Within close walking distance of award winning restaurants, visitors can enjoy their wine at our redwood bar or beside the firepit on our patio sofas.

At both locations you are guaranteed to find knowledgeable, friendly staff eager to share their passion for Big Basin wines. Whether you're a long time club member, a first time visitor to Big Basin Vineyards or new to wine in general, we are happy to welcome you and guide you through the experience of your choosing.Visit our Estate Vineyard & Winery Visit our Saratoga Tasting Room
---
Mountain Activities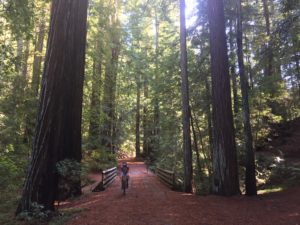 Here at Big Basin Vineyards, we are all about the unique character and terroir of our beloved Santa Cruz Mountains AVA. But we're passionate about more than just the vineyards here! We are located just down the road from some of the most epically beautiful old growth redwoods at Big Basin Redwoods State Park. Winemaker/Owner Bradley Brown has put together a collection of his favorite hiking and biking routes and urges you to check them out and pick one to explore in the morning before heading to the winery.
Mountain Activities
---