About
---
People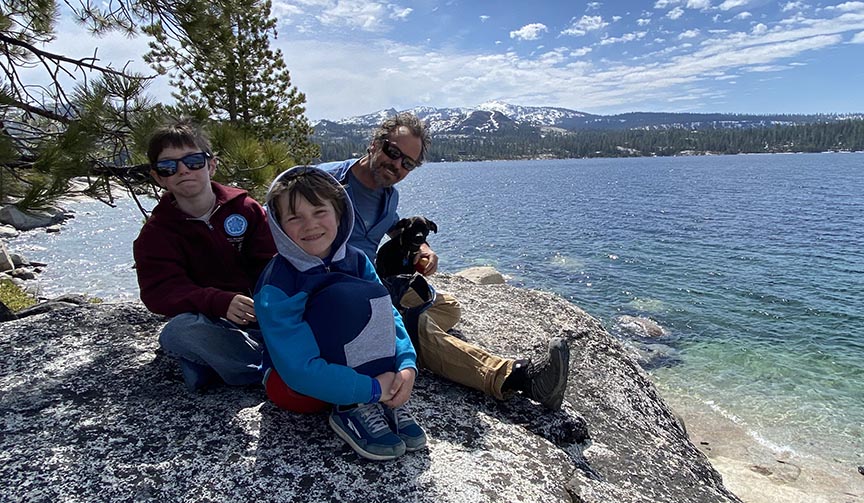 Big Basin Vineyards is a family owned and operated winery. Founder Bradley Brown is Winemaker and Proprietor (and Vineyard Manager), while his sister Wendy Brown is co-owner and provides business management expertise. Blake Yarger is Bradley's right hand man in the winery as Winemaker. Ruthie Guido runs the Saratoga tasting room and manages our wine club and mailing list. Doug Spilman runs the winery tasting room and helps maintain the pristine quality of our estate fruit. Audrey Snyder manages the financial books.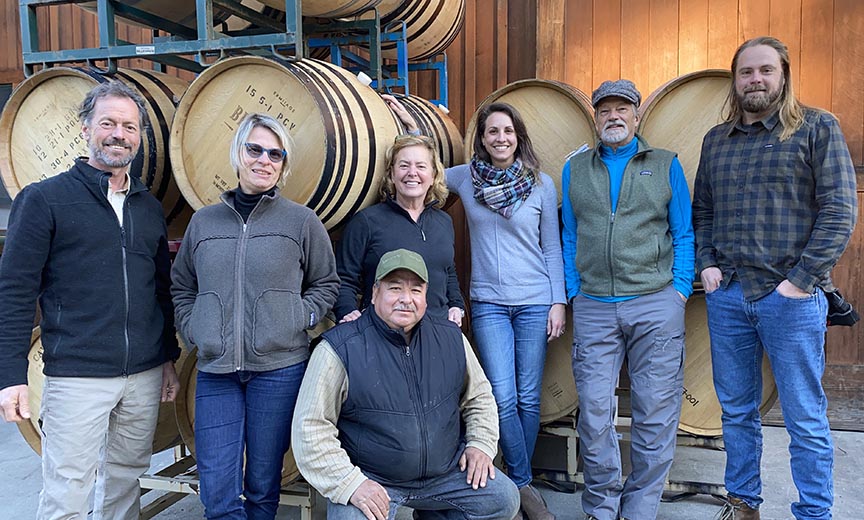 Bradley Brown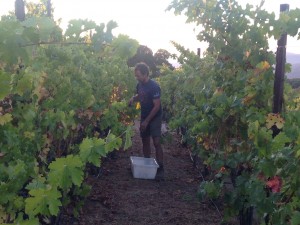 Bradley's interest in wine was initially inspired by his father, Glenn, who was an avid home winemaker and lover of German wines. His interest grew exponentially after he reached legal drinking age and was further fueled by a Francophile brother who worked for Emmanual Raynaud at Chateau Rayas in the Rhone Valley.
Bradley was drawn to California post college for the natural beauty of the Sierras where he climbed, backpacked and skied. He gradually made his way down the peninsula to Portola Valley and eventually to Boulder Creek in the heart of the Santa Cruz Mountains. He quickly made friends within the local wine community and was especially drawn to the small family owned wineries and their owners who strove to connect with their customers. Taking advantage of opportunities to taste wines and participate in the winemaking process, he developed an appreciation for the unique character of the mountain vineyards.
When it came time for a career change that would be compatible with his passions in life, grape growing and winemaking were the obvious choices. He was introduced to Rhone Ranger John Alban who agreed to consult for Bradley. First came the planting of the Rattlesnake Rock Estate vineyard in 2000 followed by his foray into winemaking with the first vintage in 2002. Bradley built a winery in 2003 using redwoods sustainably harvested from the Estate and has grown the portfolio from one wine to over sixteen wines including five different single vineyard Pinot Noirs.
Being a farmer himself, Bradley has remained focused on the importance of vineyard site and seeks out the very best sites throughout the Santa Cruz and Gabilan Mountains. He has made organic farming central to the ethos of his brand, Big Basin Vineyards, and the entire Estate Vineyard is Certified Organic by CCOF.
Big Basin Vineyards has had an extensive number of reviews published by major wine critics including Vinous, Robert Parker's Wine Advocate, Jeb Dunnuck, Wine Enthusiast, Wine and Spirits, Burghound, Prince of Pinot and others. In 2018, Big Basin Vineyards was selected as one of the Top 100 Wineries in the World by Wine & Spirits Magazine.
Antonio Galloni of Vinous had this to say about Bradley,
"Proprietor Bradley Brown crafts some of the most compelling, small-production artisan wines in California's Central Coast. With each passing year, the wines are more refined and polished, making Big Basin one of the most dynamic up and coming wineries in the state."
Passionately driven to produce authentic and compelling wines, Bradley has continued to evolve his minimal intervention winemaking with the use of more whole clusters and less new Oak.
Bradley is presently serving on the Board of Directors for the Santa Cruz Mountain Winegrowers Association. He lives on the property with his two young sons, Kiran and Lakota, both of whom love grapes and tractors.
Blake Yarger
Winemaker
Blake is the newest member of the Big Basin Team. He brings 10 years of winemaking experience, most recently as Winemaker, with a family-owned, boutique winery in Sonoma — McEvoy Ranch. Blake produced beautiful terroir-driven Pinot Noir and Syrah at McEvoy making the move to Big Basin a perfect fit. Like so many in our small team, he is capable of wearing many hats including sales, marketing and blogging! In addition, he has studied agroecology, horticulture, viticulture and winemaking, including a stint in Santa Cruz. Blake is the one you will find late at night in the winery doing punch downs with a smile on his face as the fermentations move along. If he's not winemaking or walking the vineyard, he's probably riding his bike in the hills or hiking in the backwoods.
Doug Spilman
Estate Events & Tasting Experience, Vineyard Cavalary & Rodeo
Doug has lived adjacent to the Big Basin estate since 1980 (long before Bradley acquired it), where he raised two children, many dogs and cats, two parrots and six Arabian endurance horses. Doug started working with Big Basin by supplying manure for our organic vineyard. He next joined the Landini Cavalry & Rodeo, assuming Big Basin's Italian-made tractor duties and most recently took on responsibility for the tasting room and event business at the winery. Doug's varied life experiences as architect, construction director, property services director, house builder, and lumberman make him the go-to-guy for what doesn't seem to fall to anyone else — be it the winery cooling system, parking/patio expansions or equipment maintenance. Sharing his short walks to and from work with the red tail hawks that watch over the vineyard is a quality of life plus. Sharing his life long love of wine and the Big Basin story with customers is, well, the icing on the cake!
Audrey Snyder
Keeper of the Books
Audrey grew up near Lyon, France between the best Pinot Noir and Syrah corridors, so it seems like fate that she ended up at Big Basin. She assures us that she didn't have wine in her baby bottle, but the French do promote the love of food and wine at an early age. She followed some ski bums to the US and kept on moving farther west spending time in Colorado and Utah before landing in California. She has owned and run a restaurant, and paints, plasters and designs for whoever needs her services. In her current job, she not only keeps the books and writes the checks, she is our de facto HR manager. And yes, she's family (Bradley's quasi sister-in-law) and lives on the Big Basin Estate Viognier property!
Wendy Brown
Co-Owner, Business Management
Bradley's sister, Wendy, joined the Big Basin team in 2005 as co-owner. Her experience in management consulting (A.T. Kearney), direct marketing/general management (American Express), and electronic commerce (America Online) comes in handy for budgeting and business planning. Wendy lives in Hamburg, Germany but may be found in the vineyard, the winery, or the tasting rooms on her frequent visits. A lover of German Rieslings, she is hoping Big Basin makes another Riesling, which apparently found wide acclaim amongst her german tasting crowd.
---