Wine Club
---
"Consistency Every Release"
We've created a Wine Club which caters to all preferences of Big Basin Wines: for those who prefer automatic shipments or those who wish to customize the wines they receive each year. Most of our wines are produced in very small amounts (under 250 cases), some of these are club exclusives; club members always have priority allocations and exclusive access to these wines. Regardless of club level, members receive special pricing on wine, discounted or included shipping, complimentary tastings at our Tasting Room and special pricing/complimentary tickets to events.
We do wine club releases four times per year and offer four different levels of club membership: The Explorer (2 bottles/release), The Fan (3 bottles/release), The Enthusiast (6 bottles/release) and The Collector (12 bottles/release) of Big Basin wines. Each offers a special set of benefits that will strengthen your connection with the small lot wines we intentionally craft by hand. We look forward to sharing many vintages in our on-going pursuit to create wines that authentically reflect the mountain vineyards they come from.
---
Benefits include: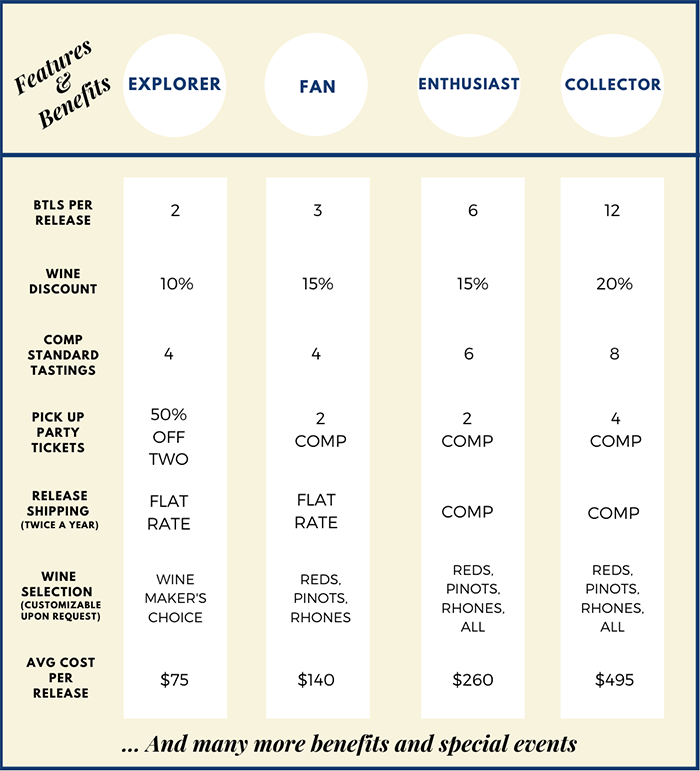 The Complete
Never miss a single offering of Big Basin's finest wines. The Complete is just as stated, you will receive at least one bottle of all of our single vineyard and premium offerings, including the two to three white wines we produce. **Only available at The Enthusiast and The Collector Levels**
Best Reds
Best Reds: Designed for those who enjoy our Pinot Noirs, Syrahs, Grenaches and Red Blends. One of our most popular options for the red wine lover and definitely the best introduction to the wide variety of red wines we hand produce.
Pinot Lovers
Many a winemaker has spent a lifetime pursuing the fabled red grape of Burgundy. In 2006, we began our labor of love trying to capture what we believe to be the highest expression of this mysterious grape from the Santa Cruz and Gabilan Mountain Ranges. We produce five single-vineyard Pinot Noirs, this club will ensure you never miss a bottling.
Become a Pinot Lovers Enthusiast
Rhône Lovers
In 1998, we broke the mold and began a journey to cultivate Rhone varietals in the ocean influenced Santa Cruz Mountains, best known for Chardonnay, Pinot Noir and Cabernet. We have since expanded our scope to work with vineyards in the Gabilan Mountain range – a range known for granitic, limestone and calcareous soils. Rhone varietals tend to be their most complex and interesting, revealing their true character potential and vineyard terrior when planted on these steep, rocky hillsides.
As quoted from The Wine Enthusiast in March 2015 "Big Basin wines are incredibly unique and delicious. They're aromatic in lavender, violet and white pepper, and full of energetic verve, perhaps the most striking evidence that Syrah should continue as a Central Coast star." Never miss a release of our Rhone wines.
Never miss a release of our Rhone wines.
Become a Rhone Lovers Enthusiast
Explorer
We feel that membership in a wine club should be accessible to everyone, even those of us without deep pockets and endless cellar space. So we have created the Explorer club, as a lower price point and quantity alternative to our traditional club levels. Explorer members receive two wines per release, one from our new release line up and a Winemaker's choice wine- possibly a library vintage, maybe an AVA- Explorers need a sense of adventure!
A Winery That Delivers Consistency Every Release
Examples of Previous Wine Club Shipments:
January 2018
| | |
| --- | --- |
| 2015 Coastview Vineyard Chardonnay | 93+ AG / 92 MK |
| 2015 Coastview Vineyard Pinot Noir | 92 MK / 92 JD |
| 2014 Coastview Vineyard Terraces Syrah | 93+ AG / 93 JD |
| 2012 Coastview Vineyard Grenache | 91 AG / 90 JD |
April 2018
| | |
| --- | --- |
| 2015 Homestead Block Roussanne | 93 MK, Editor's Choice / 91 AG |
| 2015 Woodruff Family Vineyard Pinot Noir | 94 MK / 91 AG |
| 2014 Rattlesnake Rock Syrah | 93 JD / 92+ AG |
September 2018
| | |
| --- | --- |
| 2016 Alfaro Family Vineyard Pinot Noir | 95 MK / 94 AG |
| 2014 Grizzly Grenache | 91 MK |
| 2015 Odeon | 93 AG / 91 MK |
November 2018
| | |
| --- | --- |
| 2016 Lester Family Vineyard Pinot Noir | 94 RG / 92 AG |
| 2014 Old Corral Syrah | 93 AG |
| 2015 Altitude 2292 | 92 AG / 92 MK |
AG – Antonio Galloni – Vinous
JD – Jeb Dunnuck – Robert Parker's Wine Advocate
MK – Matt Kettmann – Wine Enthusiast
RG – Rusty Gaffney – PinotFile
Terms and Conditions
Billing
You understand that your credit card will be automatically billed for your wine club preference, plus applicable shipping and sales tax charges. You will receive several notices via email prior to billing taking place.
Allocations
We will automatically generate an order based on your club level and membership. Additional allocations are first come first served upon release. You will be notified via email at the opening of the allocation window, and one week before closing. Some allocations of very small production wines, including large format bottles are based on purchase history and/or length and level of membership.
Customization
Although each club level comes with an automatically generated order, we do allow customization at all club levels. Customization requests are restricted to the release wines themselves and do not apply to past release or library vintage wines. Requests must be made via email or in person during the two week open allocation window. Customization is not possible after billing occurs.
Shipping
We strongly recommend that your wine be delivered to a business address. By law it is necessary to have a person 21 years of age or older sign for the shipment. If a shipment is returned to Big Basin for any reason other than the fault of the common carrier, return charges and shipping charges will be applied to the re-shipment.
Pick Up
Members who elect will call pick up have 60 days from the official release date to take delivery of the wines; after 60 days Big Basin Vineyards reserves the right to send out the wines to the address you have provided, using the credit card on file to cover shipping and handling fees.
Canceling
You may cancel after receiving a minimum of two (2) shipments; cancellations after only one shipment are subject to a $50 cancellation fee. To avoid billing of the next shipment, cancellations must be received at least 15 days prior to the scheduled billing date. Cancellations must be made by contacting orders@bigbasinvineyards.com. Membership is not cancelled unless you receive confirmation.
---