Bradley's Favorite Hikes & Bikes
---
The beauty and recreational opportunities found in the Santa Cruz Mountains are the reason I live here, along with it being exceptional for grape growing. Here are some of my favorite hikes, mountain bike rides and road bike rides. Big Basin Redwood State Park is truly a gem among California Parks and is not to be missed. There is simply nothing like spending time in the old growth redwoods, be it hiking or on a bike.
Best Hikes
Big Basin Redwoods State Park
These are brief descriptions to give you an idea of what options exist. Get a map at Park Headquarters. All trails leave from Headquarters except Eagle Rock trail.
Note: Dogs are not allowed on trails in the park. However, you can walk them on the Escape Road which is blocked off to cars at a certain point, and goes through some beautiful old growth groves.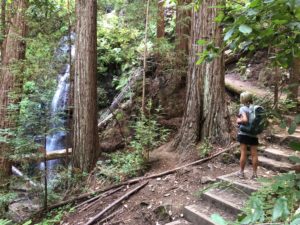 Redwood Trail
This is a short, wheelchair accessible trail that is less than a mile long and is right next to headquarters. It also happens to take you by both the Mother and Father of the forest trees – the tallest and largest diameter trees, respectively, in the park. There are also some other natural wonders including the hollow tree. This trail is worth doing even if undertaking a larger hike on the same day.
Info: Flat with no hills, less than 1 mile, wheelchair and stroller accessible
Berry Creek Falls Trail via Skyline to the Sea Trail and Sunset Trail
This is my all time personal favorite hike in the entire Bay Area. Some folks have ranked the Cascade Trail in Fairfax up there, but for pristine, primordial beauty and dramatic splendor, nothing matches Berry Creek Falls. Plan on five to six hours for this hike. Due to a large landslide, there are some detours to get you into the Waddell drainage/Skyline to the Sea trail portion of the hike. Expect dramatic canyons, multiple waterfalls, and untouched virgin Old Growth beauty. Bring a lunch, snacks and plenty of water.
Info: Around 11 miles, 2,400 ft of ascent, and 2,400 ft of decent. Not for the faint of heart.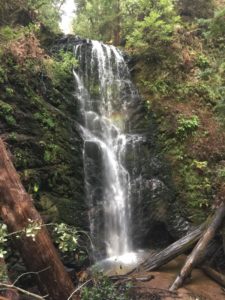 Creeping Forest Trail
If you don't have time for Berry Creek Falls, but want to get out into the Old Growth, try this trail. It is relatively short, less than three miles, without much vertical. It also takes you through some interesting topography. I'll say no more.
Buzzards Roost
This trail is all about the rock formations and views. While it does take you through some old growth, the best part of the trail is the summit. This is not a loop, but an out and back. Part of it is wheelchair accessible.
Eagle Rock Trail
Up until a year or so ago when it burned down, Eagle Rock was the location of and old abandoned fire tower. The views are spectacular from the rocky summit, and yes, you can see the ocean, plus the vast majority of the Santa Cruz Mountains including a great view of Big Basin Vineyards. I usually park right at the bottom of the trail along the road at the entrance to the Little Basin part of Big Basin Redwood State Park. No fees are required if you park here, and it is a quick five minute drive from the winery. The trail ascends Eagle Rock up a steep and rocky trail, and then you return the same way you came. It is under three miles round trip with just over 1000 ft of ascent to the top. It can be done in under an hour for faster hikers, and easily in two hours. The views are worth every drop of sweat.
Mountain Biking
Mountain biking in Big Basin RWSP is limited to fire roads. However, some of these fire roads have some technical aspects to them, so these rides will keep you on your toes. There is nothing quite like biking through old growth redwoods which also serve to keep one cooler on warm summer days. Both of the following routes start at Headquarters.
Gazos Creek to Middle Ridge Fire Rd
This is my go to mountain bike ride when I don't have time for a major ride. Gazos Creek Road is mostly shaded with moderate grades for easy biking. There are some steeper sections of climbing heading up Johansen Grade to get to Middle Ridge. Middle Ridge is a degraded fire road meaning that it is pretty rugged and narrow in sections and probably would be difficult to drive in a 4wd vehicle. It is a classic roller coaster ridge line that provides some steep climbs, and long descents. Be sure to stop at Ocean View Summit.
Info: Approximately 12 miles with 1,500 ft of ascent.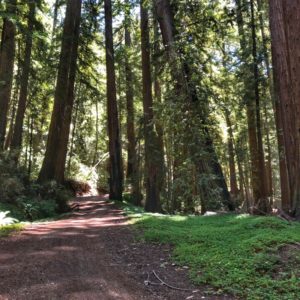 Gazos Creek Rd and The Chalks to Chalk Mountains
This is a spectacular ride along a unique geological shale deposit that formed a steep and long ridge line. Gazos Creek Road provides the access to this ridge road. This shale deposit, which coincidentally only occurs here and on the ridge next to Big Basin Vineyards, is very rock with fews trees, and it drops off very steeply on each side, so you are in full sun with panoramic views. Chalk Mountain, and the next smaller mountain at the end of the road, provide panoramic views of the park and the coastline as Chalk Mountain is just above Waddell Beach. This is a beautiful ride, and would be amazing under a full moon.
Technical Side Trail: For those who want a little more, at the second road junction after the turn off to Chalk Mtn road , make a hard right onto another side road, and then look for a road going up. Climb this steep road/single track to the top of a mountain where there is an old fire tower foundation.
Info: 21 miles with 2,350 ft of ascent and descent, 14% max gradient.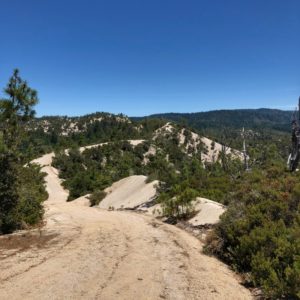 Gazos Creek Rd to Sunset Camp to Berry Creek Falls (Bike & Hike)
This follows the same route as the Chalk Mtn ride, but you take the first left on Chalk Mountain Road which is a road that winds down to Sunset Camp (the only remote backpacker camp in the park). Once there, lock your bikes up and do the hike down into the canyon with all of the waterfalls (Silver Falls, Golden Falls, Berry Creek Falls). Be advised, the climb back up this road is steep.
Road Biking From Big Basin Vineyards
Each time I head out on my road bike from the vineyard, I have to pinch myself at how lucky I am to have some of the best road biking anywhere in the Bay Area at my doorstep. A combination of little traffic, brand new blacktop, and old growth redwood forest is irresistible. I strongly recommend any road bikers out there to bring their bikes to Big Basin Vineyards, park your car and set off on one of these rides. Then, once you return, you can relax on our patio while enjoying the views and some tasty wines. Note that weekend traffic during the summer or holiday weekends can be substantial, so always bike with flashing lights on your bike. Note the rides below that allow you to avoid being on the busy roads.
Infinity Loop
This ride starts and ends at the winery, and being a figure 8 sort of loop, one could lap it more than once for a longer ride, and trust me, once you have ridden the loop once, you will be looking forward to doing it again! This ride also takes full advantage of a couple of side roads that have little to no traffic. The first is Lodge Road off of Big Basin Highway. The first part that is county maintained is not as beautiful as the recently repaved Big Basin Highway, but it is decent. However, once you get to the park boundary, the road conditions degrade substantially and one must be on the lookout for bad potholes. Wear clear glasses or none at all to be sure you can spot them. However, this bad section of road heading into the park is only a mile or two, and then you end up on a recently paved park road that services employee housing. Due to a landslide in 2016, the road is 'closed' to non-park employee traffic, so you will see very few cars if any. This road is an absolute blast to bike! Eventually, it intersects Big Basin Highway again near Headquarters. At this point, turn right on the Big Basin Highway, bike to Headquarters, and take the left past the ticket booth onto the Escape Road. This road is where most of the car parking is for the park. However, a mile down the road it is gated and closed to cars. Bike past the gate and keep going. This is a narrow paved road that is mostly pretty good, but has a few rough sections. The old growth groves you bike through are absolutely beautiful. Eventually after a climb it intersects Big Basin Highway. Turn right, and rip down through the switchbacks on pristine blacktop back to Park Headquarters. Because you are likely going faster than most cars on this downhill, traffic is not an issue. Stay on Big Basin Highway back to China Grade, and then up Memory Lane to the Winery, or go for another lap.
Info: 20 miles, 2,500 ft ascent and descent, 14% max gradient.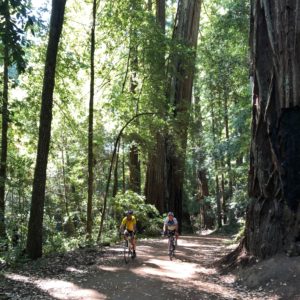 Vineyard to Park Loop via Roads Less Traveled
This is a version of one of my go to shorter rides through the park. It takes advantage of the little to no traffic on Lodge Road and the Escape Road. Instead of looping back through the park like Infinity Loop, you take a left onto Big Basin Highway after exiting the Escape Road and then take that to China Grade. You turn right on China Grade and take it back to Memory Lane and the Winery. WARNING: China Grade is NOT well maintained and there are potholes that you must not hit. Most have been painted to make them more visible.
Info: 16 miles, 2,500 ft ascent and descent.
If you want to avoid the rough sections of road on Lodge Road and the Escape Road, then simply stay on Big Basin Highway through the park, and return via China Grade. This route is a few miles shorter, and other than China Grade, the roads are in perfect condition.
Big Basin Highway Loop Through Boulder Creek
>This is a fabulous road bike ride, and now that they just paved a whole section of Highway 9, almost the entire ride is perfect blacktop. The route is simple: leave the winery, head down Memory Lane to China Grade to Big Basin Highway, then turn right to head into the park. Stay on the Big Basin Highway through the park enjoying biking through the majestic old growth
redwoods and all of the way to the intersection at Highway 9/Waterman Gap. After reaching a high point of about 2000 ft elevation, it is downhill all the way to Boulder Creek (at around 500 ft elevation). The trick to avoiding some traffic from Boulder Creek is to turn right onto West Park Avenue just before entering town. You then take West Park as far as you can before jumping back onto Big Basin Highway for the last mile or two to get to China Grade.
Info: 27 Miles, 2,250 ft ascent and decent, 11% max grade.
Hwy 236/Hwy 9 Loop
Memory Lane/236/Waterman Gap Loop
Longer Rides
For those looking to go on much longer rides, there are some good options. For example, you could turn left onto Highway 9 at Waterman Gap, ride up Highway 9 to Skyline, then take Skyline Road/Summit South to Bear Creek Road, and then back to Boulder Creek via Bear Creek. This ride takes you over the highest point on Skyline near Castle Rock State Park (over 3000 ft elevation), so be a strong climber! And the downhill on Bear Creek is not for the faint of heart, plus there is no shoulder, so watch for cars! Other long rides would include riding from Saratoga to the winery, or from Santa Cruz to the Winery via Empire Grade. You might want someone to meet you so you don't have to bike home after enjoying some wines!