Big Basin Vineyards is terraced into a steep hillside first planted to grapevines by French immigrants more than 100 years ago. Our estate and our carefully selected partner vineyards are all located at sites in the Santa Cruz and Gabilan Mountains that are as beautiful as they are exceptional for grape growing. We farm organically, time our harvests to capture intensity and elegance, and practice minimal-intervention winemaking. Our goal is to produce aromatic and ethereal wines that transparently and authentically express terroir and variety.
The Big Basin Vineyards Story
"Proprietor Bradley Brown crafts some of the most compelling, small-production artisan wines in California's Central Coast. With each passing year, the wines are more refined and polished, making Big Basin one of the most dynamic up-and-coming wineries in the state."
—
Antonio Galloni
, Vinous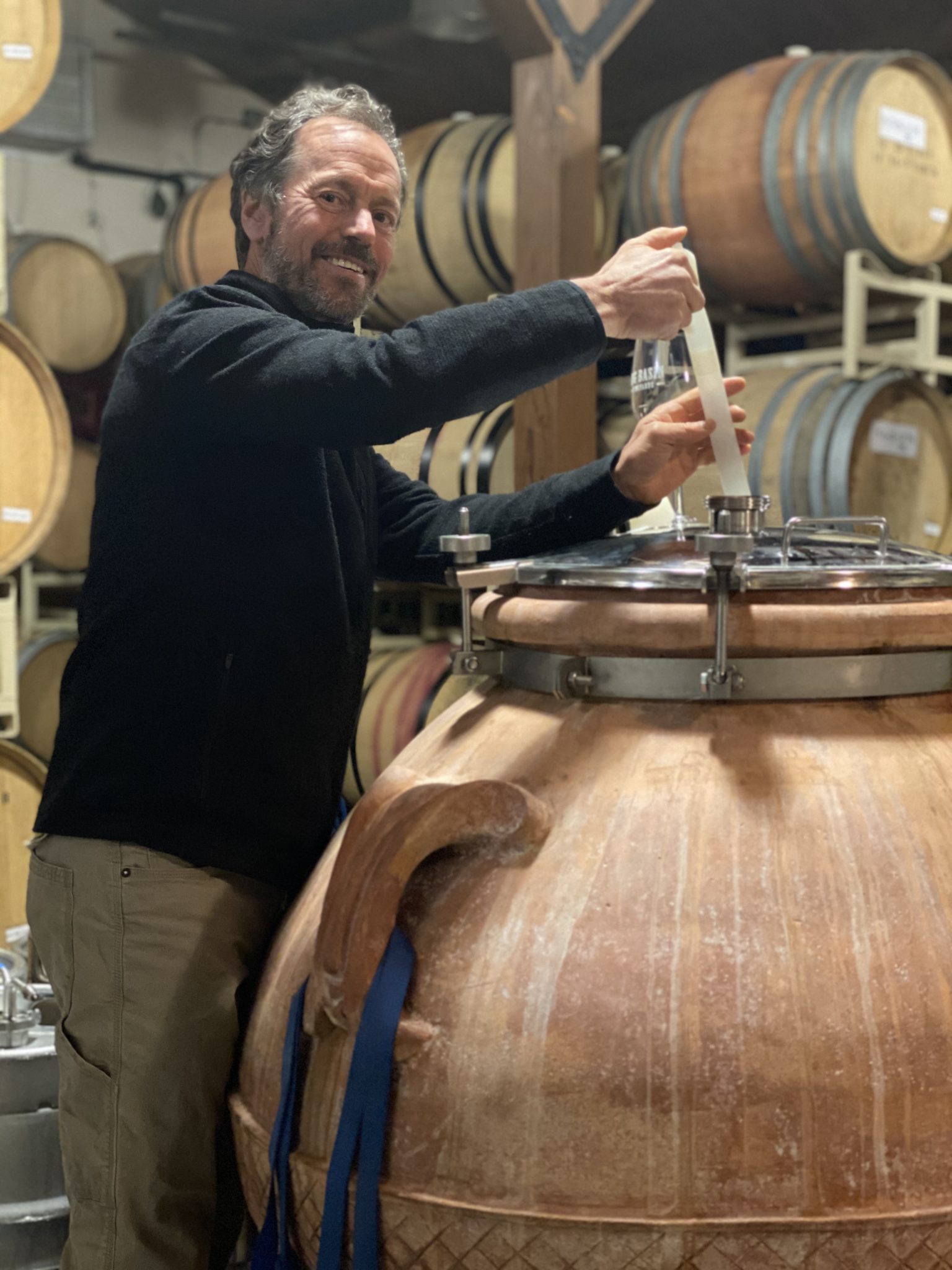 Meet Our Founder & Owner
Bradley Brown
Bradley is our founder, vineyard manager, and guide, uncompromising in his commitment to producing authentic and compelling wines, farming organically, and working with the best vineyard sites throughout the Santa Cruz and Gabilan Mountains.
Bradley was drawn to California post college for the natural beauty of the Sierras where he climbed, backpacked, and skied. He gradually made his way down the peninsula to Portola Valley and eventually to Boulder Creek in the heart of the Santa Cruz Mountains.
Under the guidance of Rhône Ranger John Alban, Bradley planted our Rattlesnake Rock Estate vineyard in 2000, vinified our first vintage in 2002, and built our winery in 2003 using redwoods sustainably harvested from the Estate.
Bradley presently serves on the Board of Directors for the Santa Cruz Mountain Winegrowers Association. He lives on the property with his two young sons, Kiran and Lakota, both of whom love grapes and tractors.
Team
---
Blake Yarger
Winemaker
Blake brings 10 years of winemaking experience, most recently as Winemaker, with a family-owned, boutique winery in Sonoma — McEvoy Ranch. Blake produced beautiful terroir-driven Pinot Noir and Syrah at McEvoy making the move to Big Basin a perfect fit. Like so many in our small team, he is capable of wearing many hats including sales, marketing and blogging! In addition, he has studied agroecology, horticulture, viticulture and winemaking, including a stint in Santa Cruz. Blake is the one you will find late at night in the winery doing punch downs with a smile on his face as the fermentations move along. If he's not winemaking or walking the vineyard, he's probably riding his bike in the hills or hiking in the backwoods.
Wendy Brown
Co-Owner & Business Manager
Bradley's sister, Wendy, joined the Big Basin team in 2005 as co-owner. Her experience in management consulting (A.T. Kearney), direct marketing/general management (American Express), and electronic commerce (America Online) comes in handy for budgeting and business planning. Wendy lives in Hamburg, Germany, but may be found in the vineyard, the winery, or the tasting rooms on her frequent visits. A lover of German Rieslings, she is hoping that Big Basin will make another Riesling someday.
Derek Brown
Vineyard Manager, Brokentop Ranch
The furthest over the hill of the three Brown children, Derek paved the siblings' way into wine by making the initial (and very underaged) discovery of their father's wine cellar. Derek holds degrees from Dartmouth College and Stanford Graduate School of Business and has worked in investment banking, marketing, and clean energy finance. While working for Apple, he spent seven years living in Paris and exploring some of the world's most renowned wine regions. His curiosity about winemaking led him to stints working harvests for the Reynaud family in Vacqueyras, France, and for Douglas Danielak in the Napa Valley. Despite his first-hand knowledge of the back-breaking work and attention to detail required to grow and make good wine, Derek planted and farms the Estate's Brokentop Ranch Viognier vineyard in the hills above Santa Cruz, where he lives off the grid with Audrey, our Keeper of the Books. If you meet him at a Big Basin event, he'll ask you what wines, beers, and foods you like—some marketing people can't stop doing informal research.
Ruthie Guido
Wine Club & Direct Marketing Manager
Ruthie is the Wine Club & Direct Marketing Manager at Big Basin Vineyards where she directs the winery's club and mailing list programs and cultivates the company's online presence. Her passion for wine grew out of a Middle Eastern upbringing where all things were food and hospitality related; and continued to develop at Cornell University, where she spent much of her time "studying" at the many local Finger Lakes wineries. This love of hospitality, combined with over ten years of experience in wine sales, means that there is nothing Ruthie enjoys more than chatting about wine. As a Certified Specialist of Wine (CSW), Ruthie's goal is to make the Big Basin customer experience a welcoming and informative one.
Christina Barnett
Tasting Room and Events Manager
A Campbell/Los Gatos native and long-term industry professional passionate about hospitality, Christina has managed multiple restaurants and wine bars in Los Gatos. She has been in the wine industry for the past 10+ years. Christina developed her passion for wine working part-time at Clos LaChance winery in 2010. After five years working in their Tasting Room and doing events there, she became the Assistant General Manager of Enoteca La Storia and then the General Manager of Rootstock Wine Bar. She then went on to work at Thomas Fogarty Winery, managing events and working in the Tasting Room for four years. Christina took her passion for wine to Italy, where she lived and worked in a small Cantina in the Le Marche region—spending a month during harvest learning more about production and Italian wines, including harvesting and producing olive oil.
Most recently, Christina was part of the inaugural team to open Tasting House Wine Bistro in Los Gatos, where they earned Best New Restaurant and Wine Bar in Los Gatos and a Wine Spectator's Best of Excellence Award. Christina has also been an active member of the Los Gatos community by being on the Board of Directors for the Chamber of Commerce and participating in the Eat Drink Los Gatos committee and the Wine Walk committee. Christina has a history of sharing her passion for wine with everyone she meets. She is a level 1. Sommelier through The Court of Master Sommeliers and is currently studying to pass her level 1 WSET. Christina brings her team player mentality and upbeat personality to the Santa Cruz Community and Big Basin Vineyards at our Downtown Tasting Room and Wine Bar.
David Johnson
Cellar Assistant & Surfer
David grew up in Georgia and wandered to Florida in search of surfing paradise. He and his girlfriend Tayler have specialised in finding property caretaking jobs in beautiful corners of the country. Their last stop prior to California was at a winery in Oregon where they both fell in love with wine. When another caretaking job near Santa Cruz came up (surfing paradise!), they jumped on it and found Big Basin Vineyards. David and Tayler kept things running at the Estate Winery Tasting Room for us for a couple years and when David expressed interest in learning more about wine making, Blake brought him on as a Cellar Rat. David is now an essential part of our winemaking team! If you stop by the winery, he's hard to miss. He's the one with the tattoos, long blond surfer hair and a huge grey Mastiff-mix dog named Ray Ray who has the personality of a golden retriever.
Audrey Snyder
Keeper of the Books
Audrey grew up near Lyon, France between the best Pinot Noir and Syrah corridors, so it seems like fate that she ended up at Big Basin. She assures us that she didn't have wine in her baby bottle, but the French do promote the love of food and wine at an early age. She followed some ski bums to the US and kept on moving farther west, spending time in Colorado and Utah before landing in California. She has owned and run a restaurant, and paints, plasters, and designs for whoever needs her services. At Big Basin Vineyards, she not only keeps the books and writes the checks, she is our de facto HR manager. And yes, she's family (Bradley's quasi sister-in-law) and lives on the Big Basin Estate Viognier property!
Luis Molina
Vineyard Foreman
Doug Spilman
Vineyard Rodeo & Estate Events
Doug has lived adjacent to the Big Basin estate since 1980 (long before Bradley acquired it), where he raised two children, many dogs and cats, two parrots and six Arabian endurance horses. Doug started working with Big Basin by supplying manure for our organic vineyard. He next joined the Landini Cavalry & Rodeo, assuming Big Basin's Italian-made tractor duties and most recently took on responsibility for the tasting room and event business at the winery. Doug's varied life experiences as architect, construction director, property services director, house builder, and lumberman make him the go-to-guy for what doesn't seem to fall to anyone else — be it the winery cooling system, parking/patio expansions or equipment maintenance. Sharing his short walks to and from work with the red tail hawks that watch over the vineyard is a quality of life plus. Sharing his life long love of wine and the Big Basin story with customers is, well, the icing on the cake!
Our Historic Estate
Building Upon a Pioneer Tradition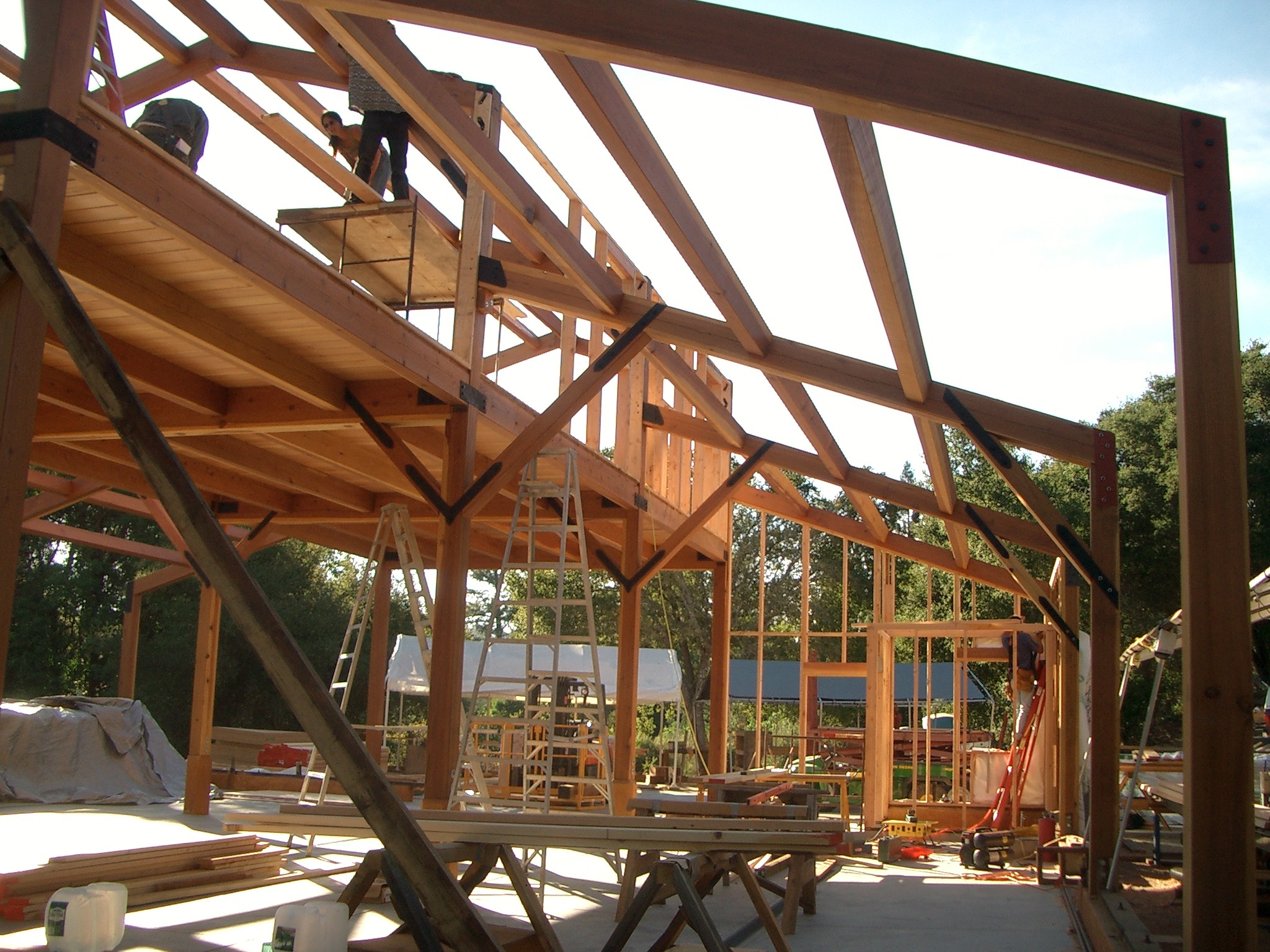 In the 19th century, enterprising settlers identified the few locations in the Santa Cruz Mountains that were suitable for planting grapes, apples, and olives. They clear-cut the land, then used dynamite to remove tree stumps.
Our property was one of these sites, with the burnt-out tree stumps to prove it. Agave plants and quince, plum, and walnut trees still remain from the 1880s, when it was first homesteaded.
Three French settlers purchased this land in 1906, planted grapes, and made wine until Prohibition was enacted in 1920. In 1935, Justin Lacau, another Frenchman, acquired the property, naming it "Frenchie's Ranch." In 1967, Lacau sold the estate to a San Jose timber family, who logged it several times.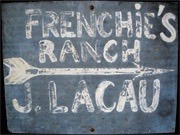 When Bradley Brown purchased "Frenchie's Ranch" in 1998, it was severely neglected. The old homestead—a cabin on the site of the current winery building—had burned to the ground in the 1970s. Area residents used the site as a dumping ground for old vehicles, and local teenagers congregated there for clandestine parties.
Before establishing the current vineyard, Bradley undertook a significant cleanup and engineering of the property to stabilize the slopes and manage the significant runoff that occurs during the rainy season. Cuttings were taken from the original vines and planted in front of the winery.
While clearing the 10-foot-high poison oak and brush and removing large boulders from the vineyard, we encountered a rock too large to move. The deeper we dug around it, the larger it appeared, so the contractor suggested a hydraulic ram to break it up. Two hours later, barely four inches had been chipped away. Since this rock was here to stay, we dragged and pushed the other successfully cleared boulders on top of it, creating what is now known as Rattlesnake Rock. And yes, just like our pioneer predecessors, we do occasionally see rattlesnakes.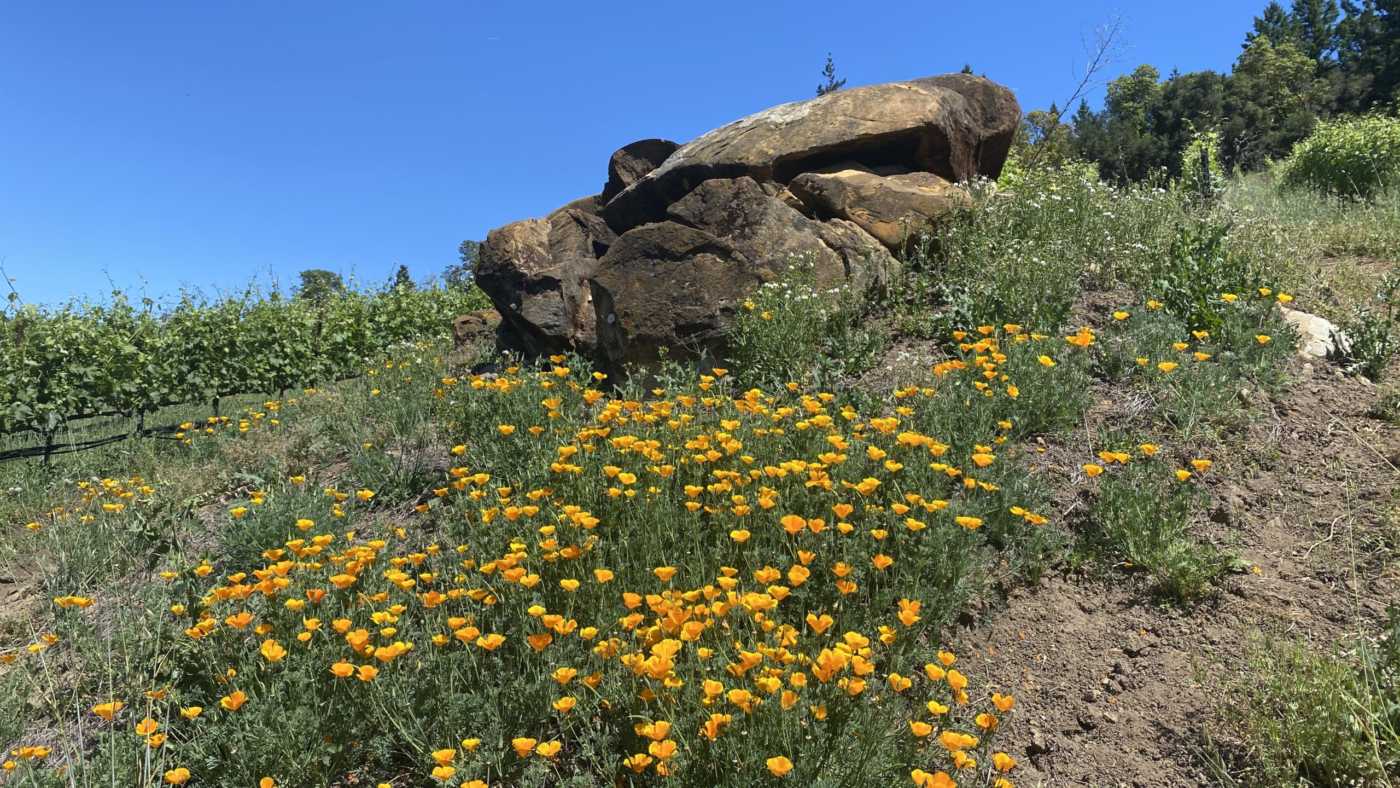 Our winery building was completed in December 2003 on the same site as the original 1890s cabin and winery. It is a 'Monitor'-style barn with a timber frame construction built using redwood selectively harvested from the estate.

While the style of building is historic, it is built to be highly energy-efficient and ideal for artisan winemaking. The first floor is temperature-regulated for controlled barrel aging and fermentations.
Bradley also built his own house at the top of the property using our own redwoods, and we hosted many joyful tastings and dinners there over the years. Unfortunately, in the 2020 CZU Lightning Complex Fire, Bradley's house was destroyed. We are grateful that the winery and vineyard emerged more or less unscathed, but we mourn the loss of a place that created many happy memories for our community.
The Story of the Big Basin Family
Meet the Browns
For us, the Big Basin Vineyards story started almost 50 years ago, when Glenn Brown, the father of the three Brown family siblings, became an avid home winemaker in upstate New York. According to our somewhat hazy memories, Glenn managed to make drinkable wines using Finger Lakes varietals such as Marechal Foch and Baco Noir.
Derek, the eldest Brown sibling, developed his wine knowledge during the seven years he spent living in France (he's standing, at right, in the photo below, shot circa 1975).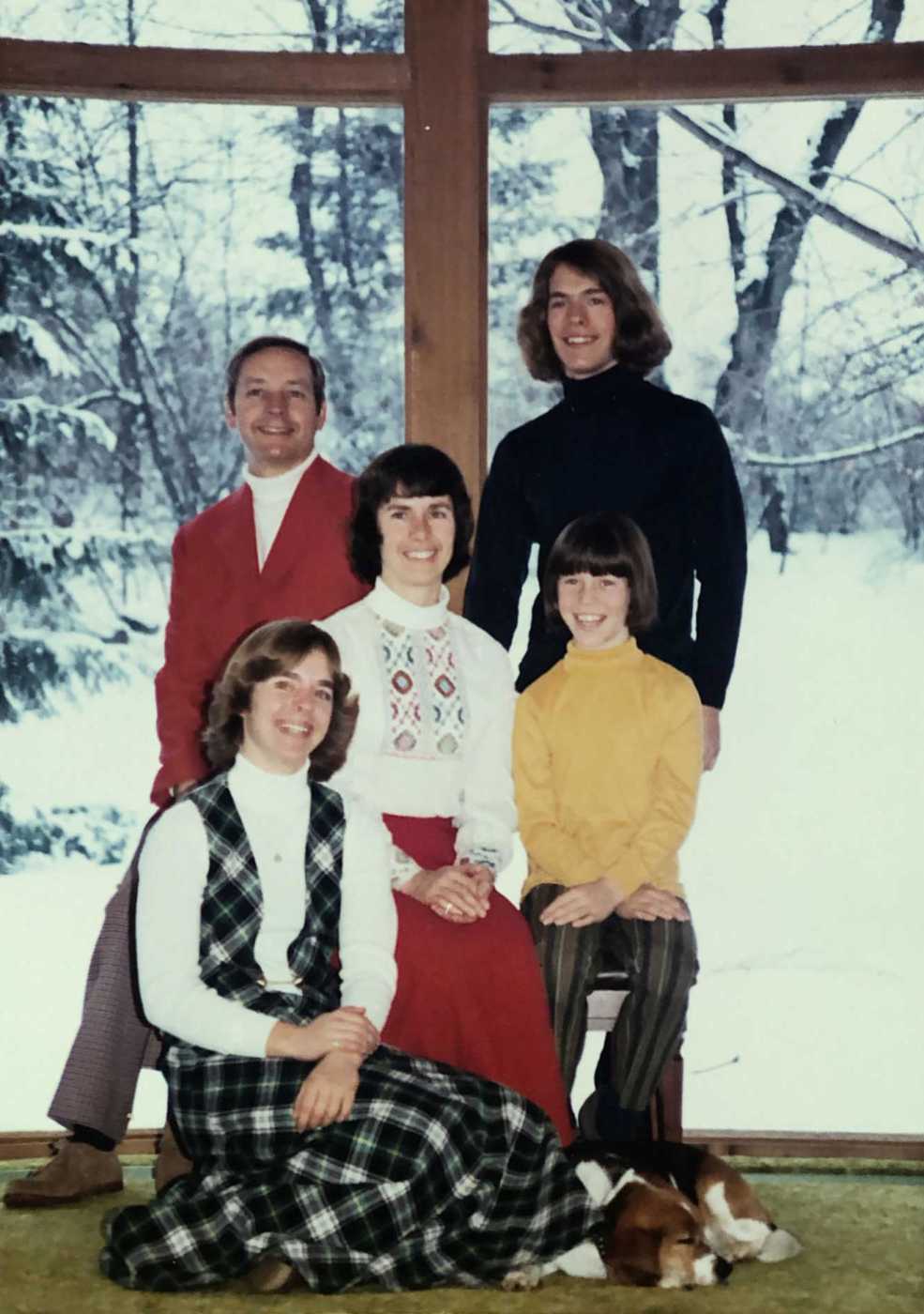 Derek took time off his office job to work the 1994 harvest at Château des Tours in the Rhône Valley (Vacqueyras). Wendy also expanded her horizons on a several-month bicycle tour of the French wine regions. (Burgundy was her favorite.)
Bradley, the youngest, was the one with the idea—and the energy—to turn the family passion into a business. After chasing his own travel dreams and working in tech in California, Bradley bought the land which would become our Estate vineyard, restored it, planted it, and produced our first vintage in 2002.
Derek later established our second Estate vineyard, Brokentop Ranch, which we released as a vineyard-designate bottling in 2014. The Browns have been joined by Derek's French girlfriend, Audrey, who keeps the financial books in order and the staff from going crazy.
The extended Big Basin family—Blake, Ruthie, Doug, and Luis—are essential to the production and marketing of our acclaimed wines and to us, they are part of the Brown family. We may not all share genes, but we do share similar values: a commitment to quality, a respect for the land, and a passion for wine.
---